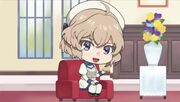 Kyokou Suiri MiniAnime is a short original net animation (ONA) which is directly released onto the Internet. The first episode was posted on Kyokou Suiri official twitter on November 15, 2019.[1] The show features Kotoko Iwanaga as the emcee with supporting characters like Kappa, Ochimusa and Genichirou the Kodama as guests. With a duration of 1 to 2 minutes, the topic varies from yokai-relating problems, yokai's description or simply running gag. As of January 2020, 30s episodes have been posted on the Japanese twitter. Crunchyroll also began subbing the MiniAnime with the first episode posted on January 22, 2020.[2]
Episodes
All the episodes were released online and can be found on Kyokou Suiri official Japanese twitter and Crunchyroll twitter for the series called @InSpectreAnime.
External Links
References
Community content is available under
CC-BY-SA
unless otherwise noted.